The Periodic Table of Elements 36" x 24" Large Poster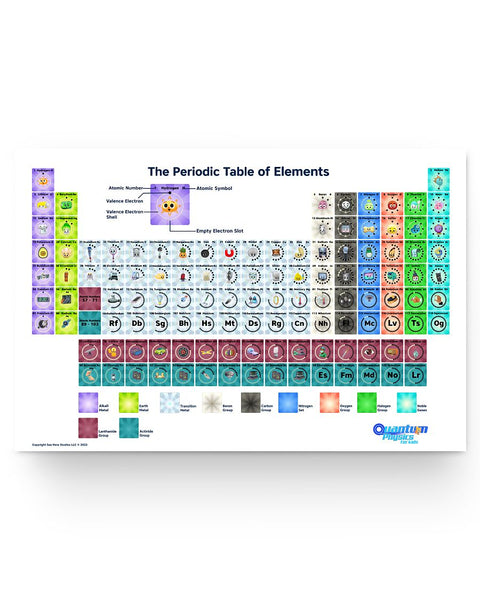 The Periodic Table of Elements 36" x 24" Large Poster
Price includes free U.S. Shipping! 
Shipping to addresses outside the U.S. is also available (for an additional shipping cost, calculated at checkout). 
This large-format 36" x 24" Periodic Table of Elements poster is an appealing visual resource for introducing kids to all the atomic elements and the structure of the Periodic Table! The poster features an illustration of each element, along with it's valence electron shell structure - the only Periodic Table poster to do so on the market. 
This full color Periodic Table is printed on heavyweight poster paper which is fingerprint and smudge resistant. Shipped in well-protected cardboard tube packaging. Due to the nonstandard size of the packaging, please allow 7-10 days for delivery.
Features:
- Glossy edge-to-edge print on heavyweight poster paper
- Fingerprint and smudge resistant
- Shipped in well-protected cardboard tube packaging
A listing of all the cartoon illustrations shown in the poster can be downloaded here. 
A fun poster for engaging kids with learning about atoms and The Periodic Table of Elements!