Atom Flash Card Set & Card Game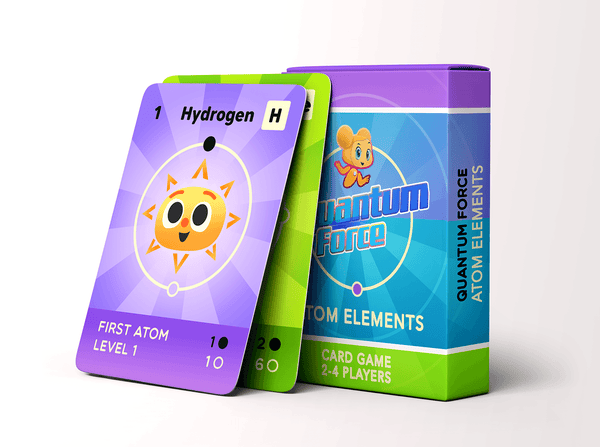 Atom Flash Card Set & Card Game
NOTE: Since we are in the process of printing new card sets, we are currently out-of-stock at this shop. Instead, please order the Atom Flash Cards from this other provider: Atom Elements Card Game & Flash Card Set
-------
Looking for a fun illustrated flash card set and game to engage kids with atoms and molecules? This 54 Atom Flash Card Set and Card Game provides a colorful, hands-on introduction to atomic elements and the Periodic Table! The boxed set features atomic elements #1-54 of the Periodic Table, each on its own custom-illustrated card. 
The center of each atom card features a cute cartoon character representing a common form or usage of that particular atomic element. Each card also includes the Atomic Number, Name, Symbol, Periodic Table Row Level and a visual diagram of the atom's Valence Electron Shell configuration.
Note: For shipping to addresses outside the U.S., please order from our international shipping partner at this link:  Atom Elements Card Game International Orders.
The Atom Flash Cards are utilized in many of our live online physics courses. Printed on durable laminated card stock, these cards will hold up to multiple re-uses in our classes!
In addition, the card set includes instructions for playing the atom-themed card games Atom Match and Molecule Match. A PDF of the card game instructions can also be downloaded here. 
Boxed Set Includes:
54 Illustrated Atom Cards

6 "Wild" Cards

9 Instructional Cards

Card Storage Box
The Atom Card Set features appealing cartoon graphics by illustrator Glenn Kim, artist for Pixar films Toy Story 2, Toy Story 3, Monsters Inc, Finding Nemo, Cars and The Incredibles.